---
Aby szybko pokonać SARS-CoV-2 i zatrzymać epidemię COVID-19, szczególnie ważne jest rozpoznanie i leczenie. Naukowcy z całego świata ciężko pracują nad opracowaniem skutecznych metod leczenia (czytaj dalej).
Cell Signaling Technology oferuje zwalidowane przeciwciała oraz związki, które mogą pomóc odkryć mechanizm infekcji wirusowej oraz przyspieszyć badania i rozwój testów i leków terapeutycznych.

Sprawdź wszystkie rozwiązania do badań nad SARS-CoV-2 i COVID-19 oferowane przez Cell Signaling Technology.

---
Detection Kits and Assays
NOWOŚĆ! SARS-CoV-2 Spike Protein Serological IgG ELISA kit #20154.
Zestaw pozwala na wykrycie w próbkach surowicy lub osocza ludzkich przeciwciał IgG skierowanych przeciw koronawirusowi SARS-CoV-2 (białku S). IgG jest najliczniejszą immunoglobuliną wytwarzaną w odpowiedzi na antygen i jest utrzymywana w organizmie po początkowej ekspozycji w celu uzyskania długotrwałej odpowiedzi.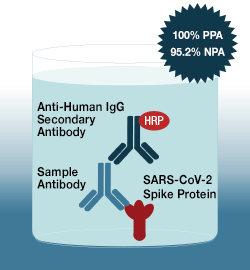 Właściwości zestawu:
• Wykrywanie ludzkich przeciwciał IgG przeciwko SARS-CoV-2 w próbkach surowicy lub osocza
• W 100% pozytywny wynik przy badaniu z potwierdzonymi próbkami dodatnimi
• W 95,2% ujemny wynik przy badaniu z potwierdzonymi próbkami ujemnymi
• Zestaw obejmuje WSZYSTKIE niezbędne składniki, w tym płytkę powleczoną antygenem, bufory, odczynniki do wykrywania oraz kontrole pozytywne i negatywne
• Detekcja kolorymetryczna
• Ten produkt jest przeznaczony wyłącznie do użytku badawczego
---


Patient Testing: Patient samples were tested using the SARS-CoV-2 Spike Protein Serological IgG ELISA Kit #20154. Serum or plasma was obtained from donors who had been diagnosed with SARS-CoV-2 (confirmed positive n=17) or from uninfected donors collected prior to the SARS-CoV-2 outbreak (confirmed negative n= 62). Samples were heat-inactivated (56°C for 30 min) and diluted 1:800 prior to running the assay, as described in the attached protocol. Samples were considered positive, negative, or inconclusive based on the criteria described in the "Data Analysis" section of the attached protocol. Positive percent agreement (PPA) and negative percent agreement (NPA) were calculated from these data.
---
Przeciwciała
Human ACE2
Human Immunoglobulin
---
Białka rekombinowane
---
Przeciwciała i odczynniki do badania odpowiedzi gospodarza na infekcję wirusową.
---